ANALYTE 2000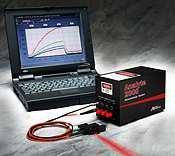 The Analyte 2000 is a 4-channel, single wavelength fluorometer optimized for performing evanescent-wave fluoroimmunoassays that was developed in conjunction with the Naval Research Laboratory for biomolecule detection. This low-power, microprocessor-controlled instrument provides parts-per-billion sensitivities to biochemical species, such as proteins, viruses, bacteria, and  spores, by monitoring antibody/antigen reactions on tapered glass waveguides. The instrument is controlled from a remote computer leading to a system size of only 20 cm L x 8.5 cm H x 11.2 cm W. The Analyte 2000, coupled with a separate fluidics box, has been flown and operated in small, unmanned air vehicles (UAVs) using a remote RF link to a groundbased portable computer.
FERRET II

Research International has developed a PC-based high-resolution, narrow waveband, spectral scanner, the Ferret II Plus, that is ideal for the interrogation of any single- or multi-mode fiber optic sensor with a reflectance spectrum containing one or more sharp lines. The Ferret works especially well with sensors based on fiber optic Bragg gratings. The card continuously scans the spectrum of a long-lived LED, used as the light source, and measures the wavelength of reflectance peaks found in the recovered signal. PC-resident software converts changes in the wavelength of these reflectance peaks into values of the measured parameter, based on a calibration curve, and displays the data in real time on the video display of the PC. The Ferret, using appropriate fiber sensors, has demonstrated the capability to monitor strain to levels below 1 microstrain, temperature to 0.05°C, and pressure to 0.025% of full scale.
HAZARD CARD: PERSONAL MONITOR FOR THE DETECTION OF EXPOSURE TO HAZARDOUS GASES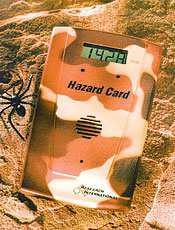 This compact sensor was designed as a platform for detecting a variety of hazardous gases including hydrocarbons, carbon monixide, hydrogen sulfide and biological warfare agents.
UAV (UNMANNED AERIAL VEHICLE)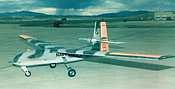 Developed a versatile, miniaturized system for collecting and identifying chemical and biological warfare agents from a UAV platform for the Naval Research Laboratory.
UUV (UNMANNED UNDERWATER VEHICLE)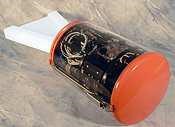 The purpose of this project was to develop a versatile, miniaturized system for collecting and identifying explosive agents in an underwater environment. Funding was provided by NRL (Naval Research Laboratory) and resulted in the prototype pictured.