SABRE 5000 hand-held trace detector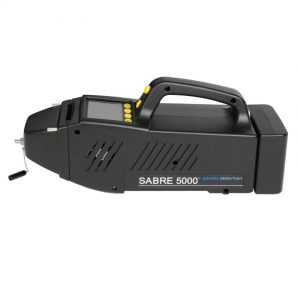 Smiths Detection is proud to introduce the next generation of hand-held trace detectors – the SABRE 5000 – the only portable trace detector that can detect threats from explosives, chemical warfare agents, toxic industrial chemicals or narcotics.
The SABRE 5000 is the smallest, lightest tri-mode handheld system available for detecting trace amounts of explosives, chemical warfare agents, toxic industrial  chemicals or narcotics. With its ability to detect a wide range of threats, it is a cost effective  instrument for security professionals and military agencies that require portability and flexibility to perform their duties.
The SABRE 5000 can detect and identify over 40 of these threat substances in approximately 15 seconds. With a cold start time of 10 minutes and weighing approximately 6.8 pounds including the 4-hour battery, the SABRE 5000 is a small, powerful ally in the war on terror and drug trafficking.